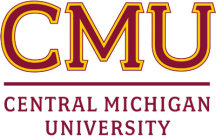 The Central Michigan University (CMU)
CMU (cmich) is one of the three most important universities in Michigan. Founded in 1892 it today has some 25.000 students. CMU dominates life in Mount Pleasant which is rather a provincial town in a mainly rural setting. The Partnership between both Departments of History exists since 2010, paralleling but not supplementing a similar partnership beween the Anglistic Departments. At CMU all epochs of European history are taught, but there are courses in Latin American, East Asian and African history which are rarely to be found in Bochum. In recent years CMU's History Department has focussed on developing teaching and research in Public History. Roughly a half of the academic staff specializises in the History of North America.
The exchange
Since 2017 the RUB-CMU exchange has been funded by the means provided in the Key Action 107 of the Erasmus+ Program. Through this, two Master students are liable to study one semster at CMU's History Department. They receive a monthly grant of about 700 € and another 820 € to cover transportation costs. During their time at CMU they enjoy the same rights as regular CMU-students even though they do not incur tuition fees. Beyond the exchange funded through Erasmus CMU's History Department allows Master students to apply through RUB's Department for year-long teaching assistantships (TA)- these are excellent students which support the academic staff. Teaching assistants have to care for the transport and their living expenses by themselves, but they do not have to pay tuition fees also. Both, the Erasmus+ exchange and the TA-Ships are announced by Winter semester for the coming academic year. A commission of RUB's Department of History selects candidates. An exceptional proficiency in the English language and a clear focus on the History of North America are basic requirements. More Information can be provided by Dr. Lutz Budrass (GA 4/50, office hours during semester th. 10:15-12:15, Tel. 22554) or Dr. Andrzej Michalczyk (GA 4/142, Tel. 24079).